:: Crystal Bindis :: Your Third Eye Prism Palace ::
:: Handmade by Miss Alaska :: Albuquerque, New Mexico ::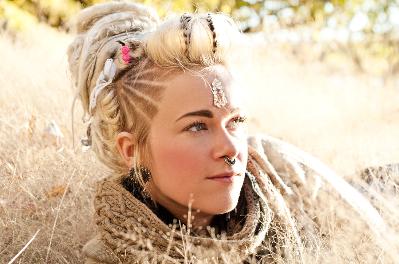 Some words about Crystal Bindis...
Third Eye Prism Palaces
& Heart Resonance
From Miss Alaska
Traditionally, a bindi is a type of temporary adornment that can be worn between (or slightly above) the center of the eyebrows to enhance connection to your inner wisdom, your 6th chakra (ajna), also known as the "Third Eye". Highly associated with strengthening energy, focus, and spirituality, the bindi has deep roots in Vedic history. In modern times our true notion of spirit, as well as the use of the bindi, have begun to transcend the illusion of separation by class, gender, and religion. Bindis are now worn by a variety of all ages, ethnicities, religions, marital status, and sexes. A bindi can be worn to honor your inner intellect, signify a special time in your life, assist in meditation, connect with greater consciousness, or even just be a purely cosmetic statement.
Just as every human has a unique history and journey, each Crystal Bindi that I create is special; They incorporate natural raw crystals in addition to stunning faceted rhinestones, and I often include element such as beads, precious metals, faceted glass, and other found treasures! I personally select every natural stone I use, and make each bindi by hand. I spend a lot of time getting-to-know & cleanse the stones, and also planning the layout of each piece. Some have a symmetrical layout, and some do not; I let the stones speak to me. Often times, the stones I select have special significance, can aide in connection or channeling between chakras, or have health benefits, so I invite you to research more about stones that resonate with you! My bindis can be used over-and-over again, and when applied with cosmetic adhesive and well-taken care-of, they will be a valued treasure for years to come.
I feel that our need for connection and gift of consciousness are universal qualities that bind us together as humans, and everyone has the power and right to creatively live and attain inner peace in their own way. It is my intention and hope that the bindis I create can be loved and shared to help you attain a higher state of well-being and happiness!
With Great Love & Gratitude, Alaska